Sorry folks! Trading cards are not on LJ Auction they are fixed prices. However if someone wants to throw the money at me go right ahead.

Same rules apply here as with all other. Buyer to pay shipping and PP fees on all items. (98% of cards have pricing listed next to them. Graphics heavy page for trading cards!
Payment options: Paypal & Postal Money orders only!
Additional info: Winners will need to pay for shipping which is extra & paypal fees!

PLEASE NOTE: I am working on a complete list of Sailor Moon trading Cards and pricing to post here shortly! If you are looking for something please let me know. Pic inside cut are only items I happen to have pics for. I have a ton more that are not done yet.

There will be no changing of orders and no refunds. If you do it will also get you banned, blacklisted, and on my offenders list. Some items may not sell it depends on if I get what I feel is a fair offer for it that I won't have any regrets.



NO ITEMS WILL BE HELD, If you don't confirm your purchase!

Payment expected within 3 days time from confirmation of purchase (unless arrangements have been made// Pertains to people who have ALREADY purchased from me sucessfully!!) via PAYPAL!


POSTAL MONEY ORDERS must reach me within 9 days. Only then will items ship out to you!


Once order confirmation is done I will edit the items to have your screen name on them so that all looking will be able to see they are sold and you can visually confirm your orders as well.


For large orders (Over $100) I will offer "Lay-a-way plans!" Please take note if you confirm an order and lay-it away I WILL NOT give refunds. This keeps things serious, keeps me sane, & away from chewing out people who want to screw around on buying things while messing up things for people who REALLY want said items.


1/2 down now and 1/2 due in a month at max this includes any shipping charges to where you live for your items.!! Invoices will be sent and must be confirmed BEFORE anything is finalized.



Pink boarder Manga art prism stickers 45 pc $50/set **SOLD OUT**

Sailor Moon Cardzillion set 1 prism (BEST OFFER ONLY!!)

Sailor Moon "Moon Solider" special cards!! (BEST OFFER ONLY!!)

Sailor Moon World Specials $5 each for 1st set of 6/ $30! SP cards price coming soon.

Sailor Moon mystery Cards from Japan (not sure what set) 14 pcs / *sell as set only*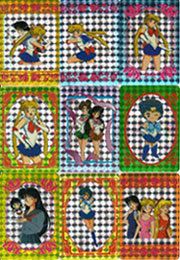 Sailor Moon R Manga Prism stickers: 22 pc // $25 **SOLD OUT**

Lightning boarder Prism Sticker cards set 18pcs $18

R Festival Cards set: 24 total $15 set

Banpresto R Regs set 18 pc $15/ set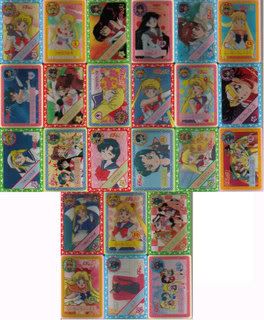 Replica Prism Phone cards (front and back!!) $3 each 1st and last photo. "Princess" cards are $4 each

SMSS Mini regs & 4 clear rare cel/sticker (pealable) special cards $20 set

Promide cards $5 each // $40 set of 11